I Wrote The Book…

April, 2015
Vicarious: A Novel Idea
Now on Amazon.com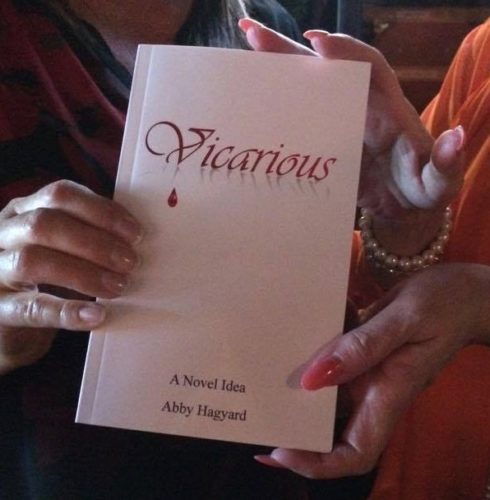 Best-selling coming romance-writer, Johnni Foster, is the undisputed Queen of the Slow-Motion Train Wreck… in her chick lit fiction and her life. When she dreams up a chilling thriller plot and decides she'll run with it, she finds herself up to her ears in stalkers and body parts. Will she unmask a killer hiding in plain sight? Will she teach her sleazy agent a lesson? Will she stop saying How hard can that be? and What's the worst that can happen? before it's too late?
*FIVE STARS*
Fast, fun, Floridian read that makes you see the movie in your head…
What fun! If you've ever said, "What's the worst that could happen?" — this modern mystery about a best-selling author who has an idea that comes back to bite her will make you think twice about saying it again.
The fun plot kicks in at Chapter One, then never lets up, blending smart/funny lines with suspenseful twists, wacky characters (clearly rooted in truth) and a lead character that you'd want to follow anywhere makes for a quick but memorable read. Watch for the "Johnni Foster Mystery" sequel Unsuitable coming soon…
November, 2015
Lost & Found: Victoria Scarcella
  Now on Amazon.com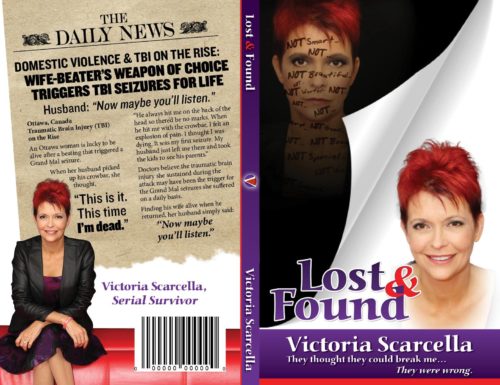 Lost & Found is the memoir of a real-life serial survivor; a gutsy wake-up call to those who may be – or may know someone – experiencing abuse.
Though Victoria fought as hard as she could, as time went by, her power to choose and her freedom were slowly taken away from her. Because things that are broken don't mend by themselves, her situation kept getting worse. How she survived is a mystery to her doctors. How she kept her sanity is a mystery to her. What we hope you take away from this book: If someone is trying to steal your joy and happiness, get help. You deserve it.
*FIVE STARS*
It took courage to complete this project. Reliving the terror to get it right cost Victoria many sleepless nights. To her doubters: If you think you can break her… you're wrong!
March, 2016
Making It Mine
White Knights
Now on Amazon.com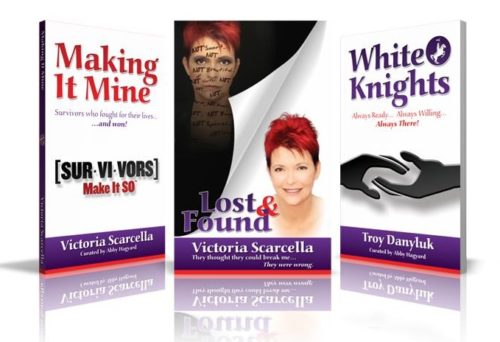 Making It Mine: Survivors who fought for their lives… and won. [With Victoria Scarcella] This is a celebration of survivors who were ready to stand up and speak out. Each one ended up in a situation that placed them at risk. Each one had to find a way out. To do that, they had to draw a line in the sand and make the most of the life they'd been given. Now, they're ready to share what happened when the switch flipped and they were ready to fight for their lives… and win.
White Knights: Always ready… Always willing… Always there. [With Troy Danyluk] White Knights know that, to have a life worth living, it's not enough to save yourself. The reason they care – the reason they step up to help – is that they've been there. Each of our contributors had an AHA moment at some point in time. Whatever it was, it changed them. The found themselves seeing the world from the other side. Today, they share a passion: they want to be part of the solution that makes things right.
*FIVE STARS*
It's humbling to meet a true hero. It's breath-taking to meet twenty of them!
January, 2017

FAME: The Collectors' Edition
Now on Amazon.com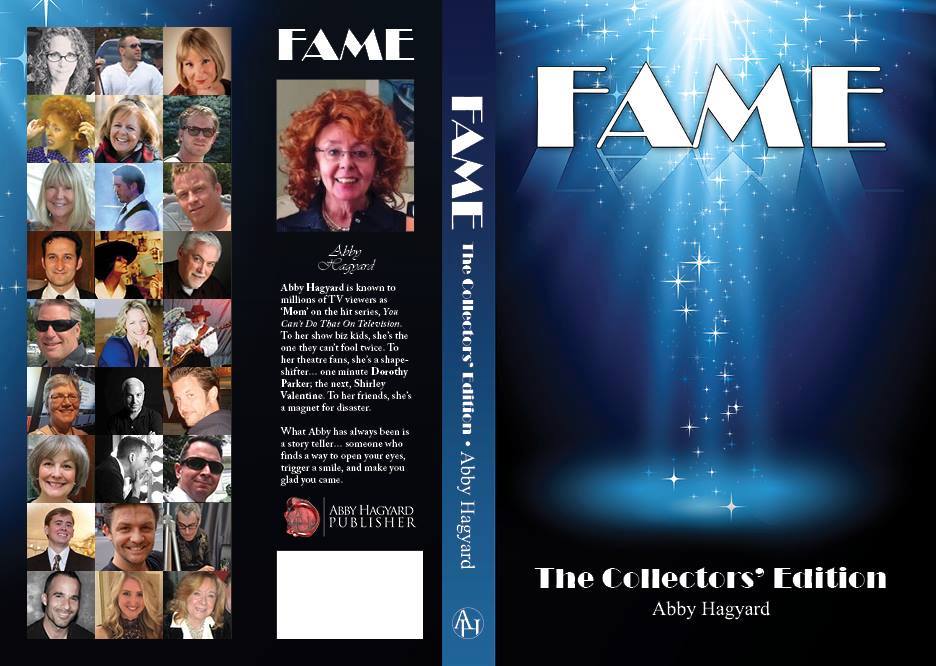 FAME: The Collectors' Edition is the ultimate insiders' guide to show biz… 26 conversations that explore the truth about a world we can't get enough of. You'll find insights honestly shared by Abby Hagyard's famous former kids and 250 one-of-a-kind photos that take us back to the days when TV changed the way we looked at ourselves. Featuring former stars of You Can't Do That On TV and The Care Bears, among others, Abby's colleagues and brilliant kids tell us what it's like to live in the spotlight. FAME: The Collectors' Edition is the true fan's gotta-have experience.
 *FIVE STARS*
"Having grown up with the You Can't Do That on Television series, I was thrilled to hear that a behind-the-scenes, interview-type book was being written about it. I read the book from cover to cover the day I received it, and was unprepared for the emotional ride and the depth of the stories and interviews. It is stunning to hear how the various participants achieved their fame, and the paths that fame would take them on. It is even more amazing to see how each of them handled it… AND, what they each learned from it."
 September, 2017

PATCHES and The Damsel Dragon
Now on Amazon.com

PATCHES and The Damsel Dragon is a magical childhood adventure suitable for anyone who loves a good story. It offers lots of action, funny moments and great life lessons hidden inside a tale of fierce dragons, brave knights, beautiful damsels and magnificent magicians. To add to your enjoyment, Patches and The Damsel Dragon is presented as a read-along story, a funny colouring book and a popular children's theatre production.
 *FIVE STARS*
I'm not crying. You're crying…
To be honest, this DID make me cry.
"He's just turned 10," she said, "and books are a struggle for him. I had a feeling he would have fun with the Patches characters, so I crossed my fingers and said, 'Let's read the play together. I'll take the first line. You take the next.' "
And then she added, "Abby, he stayed with it for 20 MINUTES!!! And when we ran out of time, he didn't want to stop!!!"
November, 2017
Unsuitable: A Novel Romance
Coming Soon to Amazon.com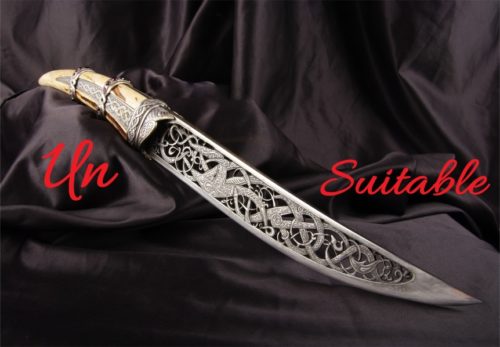 Contact me for your personally autographed copy of these wonderful books!